I'm so excited! I just registered for the Bad Girls Design Academy!
When I was watching pub calls this morning I found this awesome competition from
Bad Girls Kits
, they are looking for a TOP DESIGNER. On September 8th the classes start and it will be a six week semester.
Although I have to admit I really really really would love to win the big prize, I'm also looking forward to learn a lot from these fabulous ladies, oh sorry.... BAD girls ;)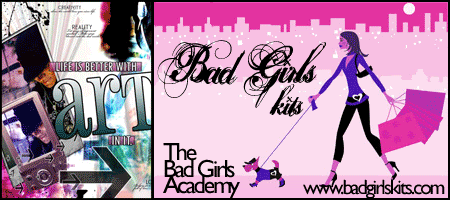 Everybody here at home seem to think I'm good with computers, but I'm not able to resize this blinkie so it will fit my side bar, gonna work on that one.
If you like to join, you can register till September 7th....
When I came home from work, I found a package from
De Creatie
. I ordered the new Rose Moka there. Two yummie paperlines: the smashing Appel de la Nature and the timeless Pause Cafe.
I think they are awesome, and I love the mini alpha's who match the papers perfectly..
Since I didn't feel like walking downstairs to take a picture, they can look a little blurry, but trust me... they are not!
No projects to share today (to much inspiration, so I keep on scrapping and will take pictures later) but there's something coming up soon!
XOXO